The second annual Kris Kringle Invitational Car Show was held at the Williamson County Agricultural Expo Center near Franklin, TN on November 6, 2010. Since it was so close I decided to to go by and see what was there.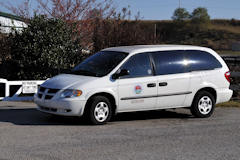 I was sort of miffed when I first got there. Take a look at the Williamson County Parks and Recreation van parked right in front of a No Parking sign that THEY PUT UP. You folks are supposed to be setting an example and not flaunting your own rules. Park it in the parking lot like everyone else does.
It was very nice! The facility is a 2-level structure and there was an arts and crafts fair around the top with the car show in the bottom. Plenty of room for a nice show.