I was at Old Hickory Wildlife Management Area on Saturday (2/16/13) taking bird photographs. On the way home I decided I was hungry and headed through Donelson, TN to grab a bite to eat. I was sitting at a stoplight waiting for it to change and happened to notice a sign alongside the highway that reads "THP Col. Elmer V. Craig Memorial Highway". It was quite a surprise since Col. Craig was my father.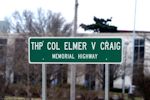 My parents were divorced when I was quite young so I did not know my father very well. We met several times as I was growing up, birthdays and Christmas, fishing a few times, dinner a few times, but we were never what could be called "Close". I did always have the greatest admiration for him, and followed his career through the Tennessee Highway Patrol closely, and it was A Remarkable Career for a remarkable man.

He died on May 3, 1989 and my mother died on April 28, 2010. I miss you both and always will.