Tennessee in late winter is gloomy and dreary most of the time.  Brown trees, brown bushes, gray skies, cold temperatures, and lots of rain.  An occasional day of brilliant sunshine and blue skies will pass through but for the most part Tennessee isn't a spectacular place to spend a winter.
For that reason I'm always grateful when I'm invited to visit my friends in the Valley of the Sun during the winter.  Arizona in the winter is everything that Tennessee is not.  Brilliant crystal clear blue skies, warm temperatures, and the ability to get outside without a heavy coat are such a treat.  We make up for it in the summer when it's 120 degrees there and only 90 here, but this time of year they definitely have the weather advantage.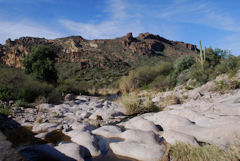 Last week, to escape the mid-winter doldrums, I flew to Arizona to visit my friends for a few days. While waiting at the airport after I arrived in Phoenix I noticed an oddly familiar yet forgotten feeling. What is that? Oh, I remember! I'm standing outside and I'm getting HOT! Odd as it may sound to some, to those of us from the eastern half of the country standing outside in January and feeling hot is an unfamiliar occurrence.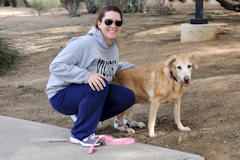 One of my friends was out of town so I didn't get to visit with her, but I did get to spend time with Kobi and Sasha (Kobi is the one trying to hide behind the shades and Sasha is the yellow, furry one)
These guys are very special to me. They invite me into their homes, always make me feel welcome, and allow me to escape the winter weather for a few days. I don't know what I'd do without them.
---
We went to the new aquarium at the Arizona Mills Mall,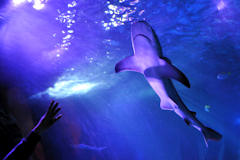 ---
We went to the Wildlife World Zoo …
---
We even caught part of the Rock and Roll Marathon …
---
We saw a couple of movies, had a lot of great food,and speaking for myself, had a great four days.  Thanks for having me!  Take care of yourself, I miss you guys already.