I mounted Lockhart-Phillips Flush Mount III front turn signals on my Suzuki DL650 because I didn't like the factory turn signals that were "Stalk" mounted on each side of the fairing. I much prefer the flush look of these turn signals, and they are easily as bright as the OEM lights. That could be because I disassembled them and mounted reflective silver tape on the base behind the lamps.

Below are some photographs of them on my bike:

Both photographs are links to larger images. Click the image to view the larger photo.

I tried to catch a photograph of the turn signal lit to give an idea of how bright they are, but I wasn't very successful. It's hard to grab a photo of a blinking light ;) Here is the best one, but it still isn't very good. You can see that in relation to the headlight it is quite bright (and the headlights on the V-Strom are awesome!).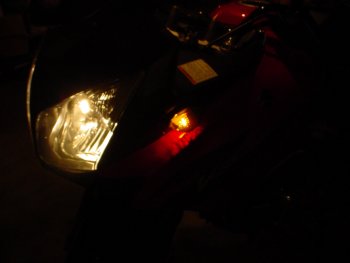 Note that I did not mount them per the instructions. The bases have two holes for mounting however using them would require drilling matching holes in the fairing. I did not want to do that in case I ever decided to remove them so I used double-sided tape to mount them. I don't use just any old double-sided tape though. For things like this I ALWAYS use 3M 06384 Acrylic Plus Attachment Tape. This stuff is great, and if the surface is clean (as in cleaned with alcohol!) the tape is almost permanent. I have some parts mounted with it on my Durango that have been there for over 3 years without a hitch.
IMPORTANT! - I don't think the Lockhart-Phillips lights are DOT approved for use as turn signals so if you live in a state that requires annual inspections on your bike they may not pass. Check your local laws beforehand.