Day 5 - Tortilla Flats and the Desert Botanical Garden - 141 miles
| | |
| --- | --- |
| | From the scenic beauty of the Arizona mountains to the scenic beauty of glass and nature today turned out to be an interesting one. Botanical gardens aren't normally high on my list of places to visit but in this case it was a truly interesting place. |
---
We headed out this morning toward Tortilla Flat, AZ. Finding Tortilla Flat is easy. Just head for Apache Junction, AZ east of Phoenix, pick up Highway 88 and hang on! It's a great motorcycle road and, from what I was told, a favorite of the locals.
Highway 88 runs into the "City" of Tortilla Flat which is billed as an authentic "Old West" town. I don't know if it's authentic or not so I'll take their word for it. I do know for certain that it's an interesting place to visit. It's in the middle of the Tonto National Forest and the highway turns to hard-packed dirt just past the town. Rustic buildings, a mountain stream running through the town, and fantastic scenery. The food is even good at the only place to eat in town!
Oh, did I mention that the walls in the restaurant are papered with dollar bills? Check out the last two photos in the fourth row up.
---
OK, time to add a little bit of culture to this trip. When we got back to Phoenix we picked up KC and headed for the Desert Botanical Garden in Papago Park in Phoenix. Now I'll be the first to admit that a trip to a garden sounds a little dull to for a bunch of motorcyclists, but stick around and I think you'll understand what drew us to the exhibits.
They presently have an exhibit of glass sculptures spread among the natural botanical exhibits. These glass sculptures emulate nature in their flowing lines and blend in perfectly with the desert background. At night they are lighted and form an absolutely amazing exhibit.
All of the glass work was done by Dale Chihuly and this man's talent in sculpting glass is amazing. Take a look at the photos below and perhaps you will agree.
OK, enough daytime photographs. Let's switch to nighttime mode. Understand that I didn't have a tripod with me (yes, I did take a travel tripod on the trip. Yes, I did leave it at the house knowing the whole time that I'm going to take night photos. Yes, I can be stupid sometimes.) so there are some that I just plain could not get. I braced my camera on everything I could think of and some of the photos are pretty decent. Some of them aren't and I apologize in advance.
AGirl also took some great photos of the exhibit at the Desert Botanical Garden if you want to see more. Her photos are on her Journey Report at This Page.
---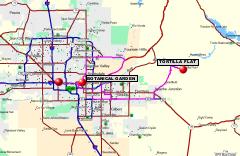 GPS Track Log for 02/04/2009
---

---

---
| | |
| --- | --- |
| Copyright © 1997-2020, Scott A. Craig, All Rights Reserved | |