Day 3 - Camarillo, CA to Phoenix, AZ - 473 miles
| | |
| --- | --- |
| | Every day on this trip was like a new beginning. Not so much a continuation of the previous day's trip but something new and exciting each day. I made it a point to get a sunrise photo each day just for that simple reason. |
---
We left Camarillo, CA under a crystal clear west coast sky. Russ and Ron had to return to Phoenix by a somewhat direct route to be home later in the day for some previous commitments. AGirl and I headed due south for the coast at Point Mugu and the famous Pacific Coast Highway. The PCH is reputed to be one of the most scenic highways in the country and from my point of view it certainly lived up to its reputation. This entire trip so far has been somewhat difficult in one respect: If I stopped to take a photograph every time I wanted to I would still be out there somewhere. That's not necessarily a bad thing, but the point is that the scenery I wanted to photograph and remember was continuous, it never stopped. Every minute or two a scene appeared that caused me to want to stop. I reluctantly told myself that we had only stopped a few minutes previously and would surely do so again in another few minutes. As usual my photographs do not come close to doing justice to this magnificent area and are but a poor substitute for visiting it in person.
| | | | |
| --- | --- | --- | --- |
| Point Mugu State Park | Point Mugu State Park | Point Mugu State Park | Santa Monica Mountains NRA |
| Santa Monica Mountains NRA | Santa Monica Mountains NRA | Santa Monica Mountains NRA | |
---
At Santa Monica, CA we picked up Interstate 10 and headed back east through Los Angeles about mid-morning. The worst of the morning rush our was over and the lunch rush hour had not yet started so we breezed through without even slowing down much. I'm getting better at this lane splitting business but I still think it's for the birds!
Once we had cleared LA and my heart rate had reverted to high-normal we once again stopped at Palm Springs for a few more photos of the wind turbines. AGirl had spotted a good place to get some photos of them so it seemed like the right thing to do.
---
Rather than getting back on I-10 and blasting east we took Highway 62 north out of Palm Springs to Joshua Tree, CA to pick up another National Park Passport Stamp. We rode through the entire National Park, stopping frequently for photographs because once again each turn in the road showed us new mountain vistas and magnificent scenery.
---
In addition to gas stops at Chiriaco Summit and Quartzsite We made one more quick stop before heading into Phoenix. This was at the Burnt Well rest area on I-10. As soon as I got off the bike AGirl said, "OK now I want you to get your camera, walk around the corner of the building, and take a picture of the sign that you see there." I did as instructed and this is what I saw:
Gorgeous as the scenery was, that sign was more than enough to keep me from wandering too far from the building, even in February. The snakes and other critters are supposed to be in hibernation but I have to wonder whether anyone bothered to tell them that!
---
We headed on into Phoenix and unloaded the bikes, met up with our buddy KC, and had a well-deserved supper. Day 3 is in the books, and it's really hard to describe it. The photos do not even come close to doing justice to that magnificent scenery. The diversity in that area is just amazing. From arid desert to mountains in a few miles. I just don't know the words.
---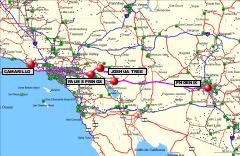 GPS Track Log for 02/02/2009
---

---

---
| | |
| --- | --- |
| Copyright © 1997-2020, Scott A. Craig, All Rights Reserved | |